Presentation of NGP PACK

Workforce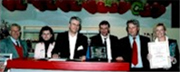 Since the foundation of NGP PACK SA until today, the human factor has been a determining actor for the company, given the fact that the fulfilment of its objectives and targets depend upon specialised and experienced staff.
The company currently employs 64 people.
It has specialised executives with studies, training, technical knowledge and work experience.
It continually invests in its executives with continual training, seminars and a perfect working environment aiming at improving the functional quality of the company and the satisfaction of the employees through stability and security arising from long working relationships.
© 2008 NGP PACK

κατασκευη ιστοσελιδων: