Service

Renting services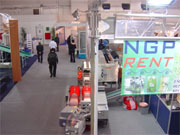 This is another service provided by NGP PACK for optimum customer service. Our company has an additional 8 TECO machines, now with a total production capacity of 90,000 cardboard boxes per shift, available for rental by its customers.
More specifically, our company makes the selection in arrangement with the customer and provides:
• The suitable cardboard box forming machine, installed, ready for production at the customer's site
• Experienced operators for as long as required
• Personnel training on how to operate the machine
• Preventive periodical maintenance, servicing and capability check of the machine
• Immediate response to problems
• Continual supply of packaging materials, such as flattened cardboard boxes, glues, straps etc.
© 2008 NGP PACK

κατασκευη ιστοσελιδων: