Quality Control

Cardboard box printing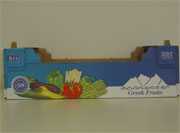 "Flexo" printing
In order to support the continually increasing needs in demonstrating the commercial image of its customers, NGP PACK SA prepares the cardboard boxes and works with suppliers specialised in the new printing method "Flexography" in order to provide excellent quality in printing on their surface.
"Flexography", often called "Flexo", is a printing method most commonly used for packaging (cardboard boxes, labels, tape, sacks, boxes, bags, flexible plastics, etc).
It has many advantages compared to other printing methods, in the sense that it can be successfully applied on a range of different materials.
Also, due to the quality of the inks used, faster drying rates can be achieved and therefore bigger productivity during printing, resulting in a reduction in printing costs.
Advantages of FLEXO PRINTING
Printing suitable for applications in food packaging
Fast speed of production (increased productivity)
Achieves full coverage and homogeneous colour tines throughout the print range
Reduced production costs due to increased productivity and lower costs if materials (printing plate)
FLEXO PRINTING Process
With higher analysis printing, better printing quality is achieved both in text and photographic subjects (OFFSET simulation)
Possibility of printing on veneer (glossy) paper
Possibility of coverage with varnish aster printing
High level of flexibility in the easy and fast creation of printing plates
Low production cost
© 2008 NGP PACK

κατασκευη ιστοσελιδων: