Distribution Network

Supply, production + distribution chain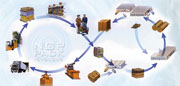 The efficient management of the procurement chain by NGP PACK SA, that is the control of the processes related to the distribution of products from the supply of raw materials to the customer, started gradually and was completed by the selection of strategic partnerships with major companies in the sector such as:
• Η INFIA HELLAS SA in 2003 in the field of plastic packaging and
• CHAITOGLOU-CHARTEL ABEE in 2004 in the field of corrugated paper manufacturing..
In this way, we have managed to create a full range of processes from the manufacture of raw materials, processing, cutting, printing and 2nd phase processing (formation of cardboard boxes) by the NGP centres as well as the disposal and recycling of by-products and manufacturing waste by the company TECHNOCART, a participating interest of the HAITOGLOU Group.
Our objective was the creation of significant advantage for our customers as:
• We have gained their trust by providing a higher level of quality and complete service.
• We improved the speed of response to their needs through our alliances and our better organisation.
• We reduced our costs and were able to offer loser prices.
The benefits that arose for our company are:
• Faster creation of new products for our customers.
• Increased capacity to deal with changes, when required.
• Priority given to service and to stock management by our suppliers.
© 2008 NGP PACK

κατασκευη ιστοσελιδων: